Thermographic Infrared inspection (Thermal Imaging)

Keeping production facilities running at all times 24x7 for a whole year of 365 days a year avoiding expensive breakdowns improving reliability of installations, industry is constantly dealing with these issues.

Heat is a byproduct of operating any-sized electrical circuit, and many problems in electrical systems display themselves in terms of heat. Electrical Engineers/Electricians must be able to classify a loaded circuit as either Normal or Abnormal; if the latter, they should be able to identify the issues that present, i.e. hot spots that need attention.

To keep plant operation at all times many industries established predictive maintenance programs. One of the most visible diagnostic tools for any predictive maintenance program is Infrared Thermographic inspection.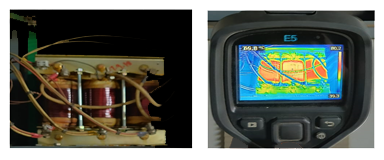 In recent years, infrared thermography cameras have come a long way toward helping electricians and service technicians find and solve problems quicker and more safely. Thermal imaging technology that flags possible electrical problems before they fully form and wreak havoc clearly demonstrates that heat generates light. Nevertheless, if light is also defined as the unvarnished truth that may only be accurate in the purely physical sense.

Used competently and intelligently, infrared imaging (IR) used to pinpoint abnormally high or rising heat from resistance in electrical circuitry sheds bright light on foreknowledge that can save lives, money, and remorse. Like any tool, however, infrared thermography is only as good as the operator. Deploying the technology improperly, inaccurately interpreting the raw information it produces, and even failing to create an action plan that supports it can render results confusing at best or useless at worst.

FORETEC's infrared thermographic inspection can help protect the equipment in your Industry & business facility through infrared imaging, detecting problems that can become expensive and time-consuming if not corrected. The inspection can be performed on all types of electrical equipment in your facility and will determine if abnormal heating conditions exist when the equipment is operating, a situation which can lead to electrical and mechanical failure.

FORETEC can perform a one-time infrared inspection to determine if problems exist, or we can inspect your facility on a regular basis. Regular inspections allow us to perform trend analysis on the condition of your equipment, which are useful in forecasting short- and long-term maintenance needs.

After completion of inspection at plant, client will receive a detailed report identifying the location, description, thermal image analysis and recommended solutions for identified temperature abnormalities.


Inspection features and Benefits
Use of state-of-the-art thermographic equipment
Analysis and report of findings
Increases equipment reliability and reduces maintenance costs
Identifying power quality issues
Identifying bad connections
Decreases risk of accidents and fire
We have full infrastructure to identify any locations and issues behind the reason exactly to provide the best in class solution to our clients. Our FLIR cameras are highly helping us and comparable FLIR is comfortable and user-friendly software to provide the user friendly and easy understandable reports to our clients.